Child Protection Week (CPW) was celebrated from 5 - 12 September 2010 with the theme 'Protecting children is everybody's business'. Children's Safety Australia Inc.(CSA) partnered with the Daniel Morcombe Foundation (DMF) to commemorate the week with a media event and celebration at Australia Zoo on Wednesday, 8 September. The event was attended by a number of special guests including Terri and Robert Irwin, Meshel Laurie, Denise and Bruce Morcombe, Acting Deputy Commissioner Andy Henderson and students of Mooloolaba State School.
CSA patron, Meshel Laurie, with the help of the Mooloolaba students, introduced guests to the new children's safety bookmarks. These resources have been designed for children and protective adults and are a joint initiative of CSA and the DMF (see next story for further details). Robert Irwin made his media debut addressing the audience with mum, Terri, as they encouraged children and their parents to make children's safety a priority.
The event coincided with the launch of the revised version of the DMF Foundation Red DVD which aims to equip children and their parents/carers with key children's safety messages. The DVD is now available free to schools, community groups, businesses and concerned parents. For further information about the DMF DVD contact: danielfd@bigpond.net.au or tel: 0434 326 435.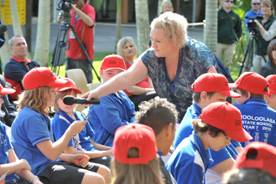 Meshel Laurie with Mooloolaba SS students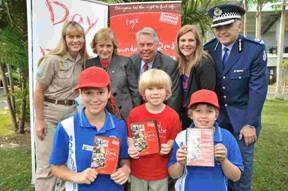 Terri Irwin, Denise and Bruce Morcombe, CSA Director Kim Jackson, Deputy Commissioner Andy Henderson, Mooloolaba SS students and Robert Irwin (front, centre)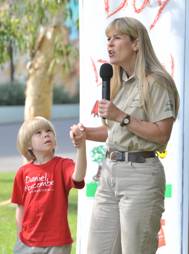 Robert and Terri Irwin
New Children's Safety Resource
To commemorate the 2010 Child Protection Week, Children's Safety Australia Inc. (CSA) and the Daniel Morcombe Foundation (DMF) launched two children's safety bookmarks. The bookmarks promote the four children's safety messages of the Safe Start: Protective Behaviours for Children program.
One bookmark has been designed for children and includes simple safety messages depicted in a colourful, illustrated format. The second bookmark targets protective adults, such as parents, carers, grandparents, teachers and other professionals and volunteers who work with children. It offers suggestions on how to teach children the four safety messages together with a range of strategies to promote a safe and supportive environment for children.
The four safety messages promoted on both bookmarks are:
I am special, so are you!:

to build a healthy self esteem and encourage respect and empathy for others.
The bookmarks are available for sale via the CSA Resource Order Form. Sets of 30 bookmarks cost $5 including postage and handling (no GST applicable).


Children's bookmark


Protective Adults' bookmark
Day for Daniel - 29 October 2010

All schools, community groups and businesses are encouraged to help celebrate the Daniel Morcombe Foundation's (DMF) annual 'Day for Daniel' by promoting a day of child safety awareness on Friday, 29 October 2010.
Now in its 6th year, Day for Daniel continues to grow on a national scale and is recognised as Australia's largest event of its type, with over 500,000 school-aged children expected to participate on a local level this year.

A variety of activities are suggested including children's safety classroom presentations, watching the DMF 'Foundation Red' DVD and organising a community walk. These education activities are designed to provide life skills for children in a fun and informative manner without causing fear.
The DMF encourage that a red flavour be incorporated in the day – linking Daniel's favourite colour in a discrete way to the importance of children's safety education, such as wearing something red, displaying red balloons, eating something red or writing in red. Day for Daniel is not a memorial day – it is a day to create awareness and learning!
You are encouraged to register your school or organisation's event on the DMF website (www.dayfordaniel.com.au). Every registration will receive the DMF 'Starter Pack' containing the revised edition of the Foundation Red DVD and a variety of free resources to get your school or organisation ready for the big day.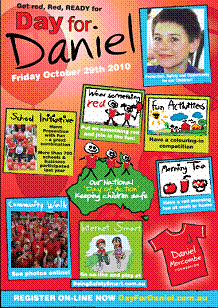 The Queensland Police Service (QPS) is commemorating the 25th anniversary of the Adopt-a-Cop program by launching an annual awards program. The awards program has been designed to reward the outstanding work performed by Adopt-a-Cops throughout Queensland schools, with one overall winner to be awarded the 'Adopt-a-Cop of the Year' title.

Police Minster Neil Roberts said the Adopt-a-Cop program was started in 1985 as a means to build good relationships between police and families within school communities. "Adopt-a-Cops volunteer for positions within schools in addition to their regular duties," Mr Roberts said.

"These officers put their own time and effort into building positive relationships between police and members of the school community, and it's important we celebrate their contributions. I want to encourage teachers, school staff and students who want to put forward their Adopt-a-Cop to complete a nomination form and submit it to their local police station."

"Winners in each of the 30 districts throughout Queensland will be eligible for the regional round of awards, with the eight regional winners considered by a judging panel for the 'Adopt-a-Cop of the Year' Award." The winners will be announced before the end of the school year, in a QPS ceremony.

Nominations forms can be found on the QPS website (www.police.qld.gov.au) under 'Adopt-a-Cops'. To be eligible for judging, schools are requested to submit nomination forms to their local police station by no later than Wednesday, 20 October 2010.
For further information, please contact the QPS Community Safety and Crime Prevention Branch on tel: 3234 2111.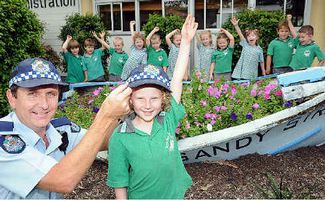 Sandy Strait State School students with Adopt-a-Cop Constable Craig Lewis. Photo supplied with the permission of the Fraser Coast Chronicle.
That's Entertainment: Fundraising Success

CSA is thrilled to report our Entertainment Book Fundraising Drive has resulted in over two thousand, three hundred dollars ($2300) raised to support future children's safety endeavours.
A huge thank you to everyone who purchased a book and to the CSA Management Committee for their outstanding efforts to support this fundraising campaign.
Look out for the 2011/12 Entertainment Book selling from March 2011.
Christmas Cards to Support Children's Safety
With the Christmas season fast approaching, you can demonstrate your support of children's safety to clients, friends and family members by purchasing corporate Christmas cards or hampers in support of CSA.
A wide range of beautiful Christmas cards and hampers are available with the ability to personalise your message, including text, font and colour. Forty cents (40c) per card and 10% of the cost of hampers will be donated to CSA. Order forms can be accessed via: Charity Christmas Cards Order Form and Charity Christmas Hampers Order Form.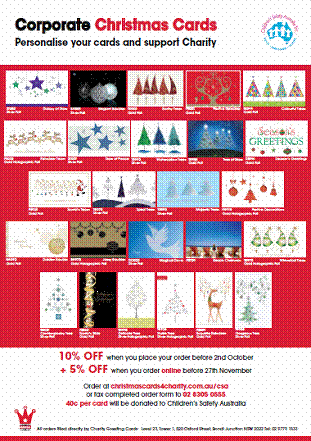 Due to the popular response, CSA has extended its special membership offer. New and renewing members are invited to take advantage of FREE CSA MEMBERSHIP by completing and submitting the CSA Membership Form by 31 December 2010.
Members are entitled to a 10% discount on all CSA resources located on the CSA Resource Order Form.